From:
Dan Joling, AP via Discovery News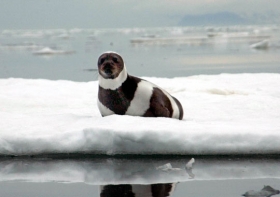 Ribbon seals should be listed as threatened or endangered because global warming is quickly melting sea ice, which the seals depend on for several months each year, two environmental groups said in a lawsuit filed against the federal government in San Francisco Thursday.
The National Oceanic and Atmospheric Administration in December denied a listing under the Endangered Species Act for the seals found off the coasts of Alaska and Russia.
The Center for Biological Diversity and Greenpeace sued in U.S. District Court, claiming the agency ignored the best science available on global warming.